Consulting | Design Tech Set-up | Online – Social  Management | Portfolio | Contact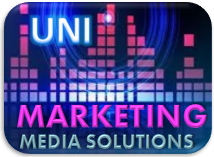 UNI MMS provides INTUITIVE Marketing Solutions across multiple channels including online, social, mobile and offline strategies.
We don't just create websites and marketing materials….
We create Marketing Media Platforms for YOU to do business and exchange ideas, information and commerce by providing extreme value to your industry right when they need it most.
Don't just make a first impression keep them coming back!
The UNI Media Marketing Solutions Team can help you build your platforms and enhance your visibility, traffic and engagement with your clients, team, audience and support.
View our adjustable Standard Packages and Contact Us for more information and custom packages.